Relics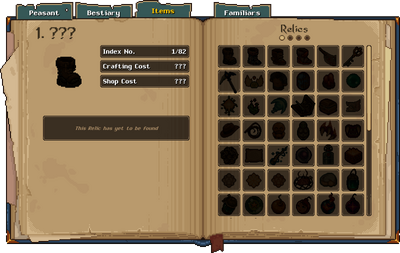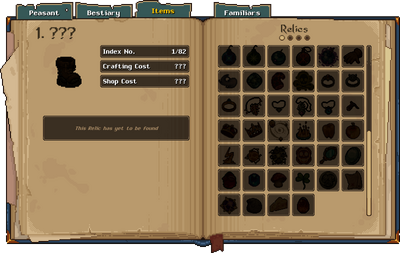 Relics are special items in UnderMine. They are key in progressing far in the UnderMine, and have various abilities that can completely change the perception of the game and how the game is played.
As of 1.0.0 and above, Undermine has 154 relics. Not all relics are available to the peasant at the start of the game and have to be crafted by Wayland using schematics.
Each relic has its own crafting cost ranging from 0-999 Thorium. Once a relic is crafted it will permanently stay in the UnderMine for future use. If two relics are crafted at the blacksmith, only the first crafted relic can be taken on the run. The second relic crafted will be taken by a pilfer, but will still permanently show up in the UnderMine.
See also Combined Relics.
Relics can be destroyed upon getting five hits and can fall into pits.
Relics can be found in shops, Offering Rooms, relic rooms, which exist on each floor, and they are always locked, except in The Goldmines 1, or when crafting a relic for the first time, at The Hub.
If a player has gone through the entire item pool, only Hot Cross Bun will spawn.
Legendary relics cannot be transmuted.
Relics can be sold in exchange for some gold at Black Rabbit's shop.